Beetroot belongs to the amaranth family (Amaranthaceae). Family of the sugar beet.

You are viewing the mobile-adapted version of the page.
The one for tablets, laptop and desktop also provides general information, such as origin and cultivation.
Beetroot (Beta vulgaris var. ruba) belongs to the amaranth family (Amaranthaceae). Family of the sugar beet. Sow from April to late June in the open ground in the final spot. Thin out by leaving the strongest plants in place. Often two or three are in a clump together; be careful not to pull out all two or three. Sow several times in the April-June period, thus extending the harvest period. Once the tubers rise above the ground, they can be harvested. Don't let the beets get too big; it won't improve the taste.
When the seedlings are + 2.5 cm high, thin out to leave one every 10 cm.
Bugs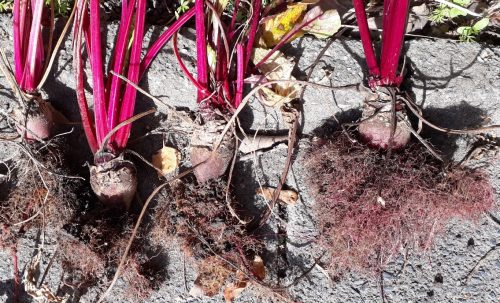 Excessive development of roots; roots appear 'bearded' or 'whiskered'; delayed growth: Beet cyst eelworm (Heterodera schachtii, Heterodera betae).
Feeding on the underground parts of seedlings: pygmy mangold beetle (Atomaria linearis).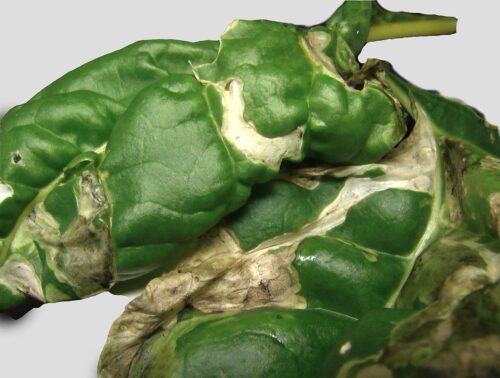 In spring, the beet leafminer lays its eggs on the underside of leaves. Larvae eat the chlorophyll between the veins of the leaves, blisters appear on the leaf, after which the leaf withers. Sometimes the damage is limited to a few leaf mines: Larvae of the Beet Leafminer (Pegomya hyoscyami). Occurs mostly in cool summers.
Curled leaves; in some places there is an aphid of about 2 mm in size: Green peach aphid (Myzus persicae).
Beetroot is not growing, root system shows many small root nodules (galls): northern root-knot nematode (Meloidogyne hapla).
Delayed growth, 2 – 4 mm small nodules at the ends of roots: false Columbia root-knot nematode (Meloidogyne fallax).
Fungi & diseases
Corky lesions that can develop into warty infestations: common scab (Streptomyces scabies).
Young plants fall over; stem turn glassy and brown: Phoma leaf spot (Phoma betae).
Seedlings wilt: Pythium root and stem rot (Pythium spp.).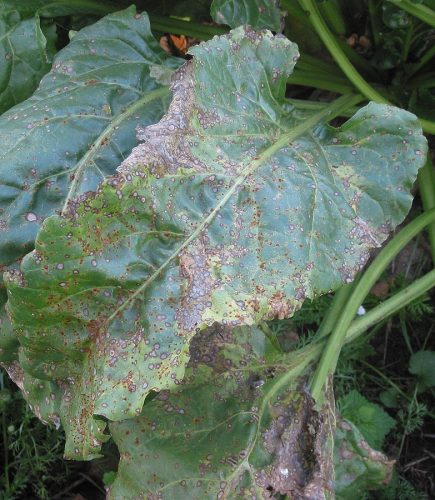 Grey spots develop on the leaves, discoloring to brown-black. The spots are bordered by a red band: Cercospora leaf spot (Cercospora beticola).
Light spots on leaves, later turn brown, holes in leaves: Ramularia (Ramulaira beticola).
Plants wilt, leaves die, and brown or black spots appear on roots: root rot (Rhizoctonia solani).
A white/light grey mould of fungus develops on the leaf surface, usually between August and October. Small black dots appear on the infected leaves. Leaves ultimately turn yellow and die: form of Powdery Mildew (Erysiphe polygoni).
Other
Plants are not growing strongly: apply high nitrogen fertiliser and water in.