Raspberry is a member of the rose family.

You are viewing the mobile-adapted version of the page.
The one for tablets, laptop and desktop also provides general information, such as origin and cultivation.
Raspberry (Rubus idaeus) is a member of the rose family (Rosaceae). Like the blackberry (Rubus fruticosus) belonging to the genus Rubus.
Autumn-fruiting raspberries (primocanes): prune the old, fruited canes to ground level in autumn or late winter. In spring, the Autumn-fruiting raspberries produce new fruit-bearing shoots.
Summer-fruiting raspberries (floricanes): after harvesting in summer, cut back all fruited canes to ground level. New shoots are already emerging; these will not bear fruit until the second year.
Summer raspberries consist of: 1) annual branches, which bear fruit in the second year and 2) the biennial branches that bloom and produce fruit next spring.
Autumn raspberries do all the growth, flowering and raspberries within a year, but autumn raspberries only appear in August and September.
Bugs
Flower bud dries out: Strawberry-blossom weevil (Anthonomus rubi).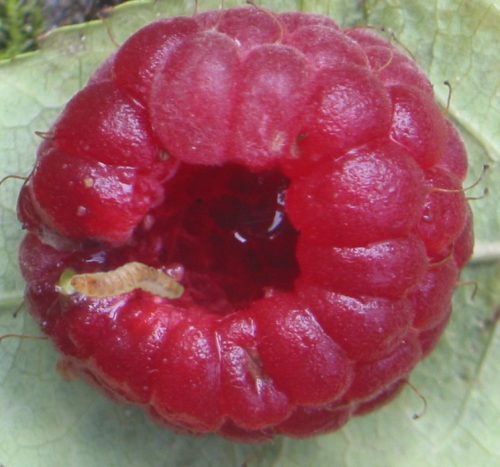 Buds are eaten and larvae in raspberry: Raspberry beetle (Byturus tomentosus).
Soft spots develop in ripening raspberries, then rotten spots: Spotted wing drosophila (SWD) (Drosophila suzukii).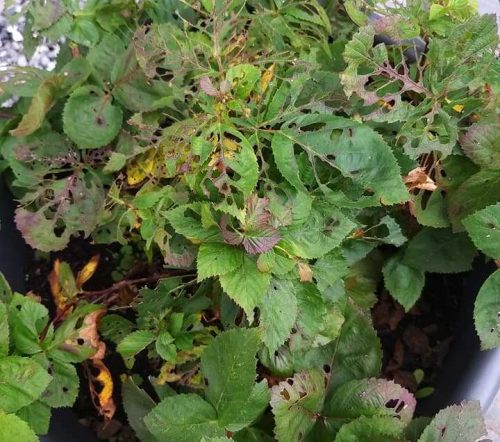 At the end of the season, in autumn the leaves are attacked by larvae (caterpillars) of sawfly: the Bramble sawfly (Arge cyanocrocea) with its yellow-green larvae or the Turnip sawfly (Athalia rosae) with black larvae (caterpillars). The caterpillars are usually on the underside of the leaf and eat the chlorophyll between the veins.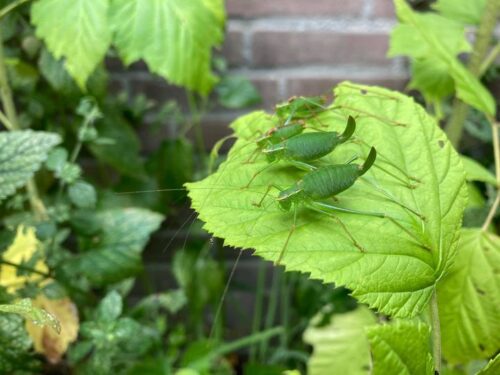 Grasshopper on the leaf of a raspberry: Speckled bush-cricket (Leptophyes punctatissima).
Leaf, blossom and ovary are eaten by caterpillars (the berry span caterpillar) of Magpie Moth (Abraxas grossulariata).
Fungi & diseases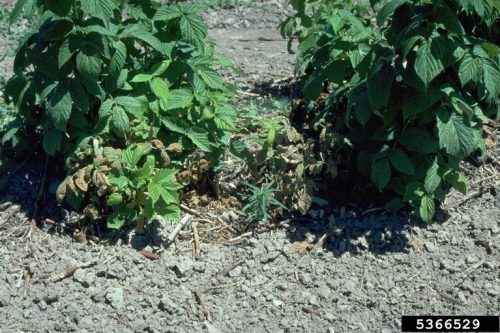 Leaves turn yellow or bronze and wilt, roots turn red and raspberries become bitter: Root rot (Phytophthora fragariae).
Dark red spots on the top of the leaves; orange-brown spots appear on the underside: Blackberry Leaf Rust Fungus (Phragmidium violaceum).
Unnatural light and dark green – sometimes yellow – spots. Leaves curl and get withered spots: mosaic virus.
Fungus on leaf and raspberry; fruit rots away: gray mold (Botrytis ssp.).
Other
Birds sometimes pick raspberries.
White spots on raspberries in full sun: sunburn.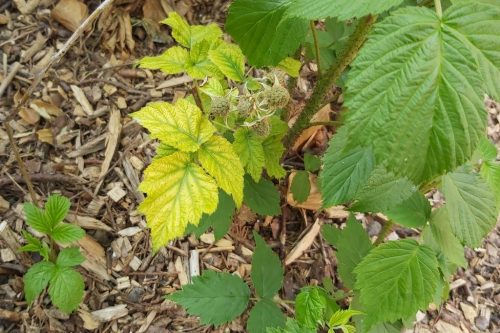 Leaf of a few branches yellowing (no water deficit): deficiency disease. A deficiency of manganese or magnesium. Excessive acidity (pH) can also hinder nutrient uptake and cause yellowing.
Related onderwerpen