Blackberry, as found in the kitchen garden is a hybrid of several blackberry species and has no species name.

You are viewing the mobile-adapted version of the page.
The one for tablets, laptop and desktop also provides general information, such as origin and cultivation.
Blackberry, as found in the kitchen garden is a hybrid of several blackberry species and has no species name. Rubus comes close.
Woody plants such as raspberry, blackberry and currant can be planted as a hedge around the crop rotation beds. Such a hedge provides a lee microclimate near the vegetable beds and is attractive to bees. Do fertilize such a hedge regularly and don't plant it too close to the vegetable beds (shade!).
Bugs
Flower bud dries out: Strawberry blossom weevil (Anthonomus rubi).
Buds are eaten and larvae in blackberry: Raspberry beetle (Byturus tomentosus).
Some blackberries in a cluster do not ripen, remain red and sometimes still hang on the branch even in winter: Redberry mite (Acalitus essigi).
Leaf shows little holes and warty spots on brambles: Common green capsid (Lygocoris pabulinus).
Drill hole in stem of blackberry; drill remains can be found around the drill: Blue carpenter bee (Ceratina cyanea).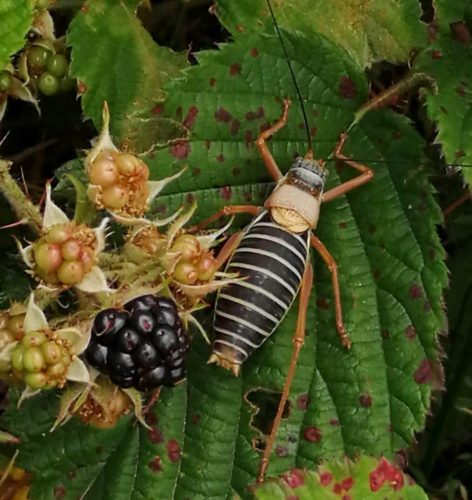 Saddle-backed bush cricket (Ephippiger ephippiger) among leaves; this grasshopper is useful because it eats bugs.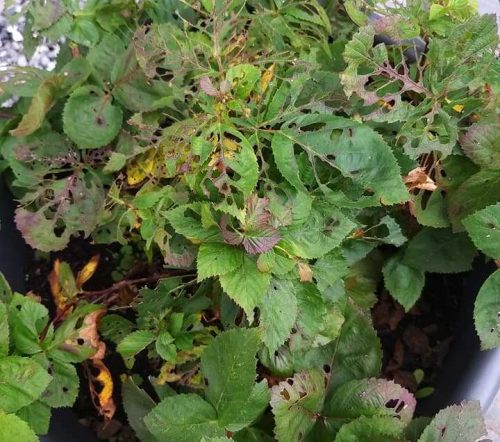 At the end of the season, in autumn the leaves are attacked by larvae (caterpillars) of sawfly: the Bramble sawfly (Arge cyanocrocea) with its yellow-green larvae or the Turnip sawfly (Athalia rosae) with black larvae (caterpillars). The caterpillars are usually found on the underside of the leaf and eat the mesophyll between the veins.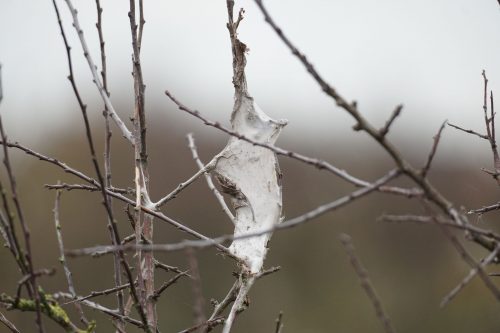 Large webbings with tiny caterpillars in early spring when the leaves are just sprouting or the webbing in late fall, where the caterpillars overwinter: the larvae (caterpillars) of the Brown-tail moth (Euproctis chrysorrhoea).
Fungi & diseases
Fungus on leaf and blackberry; fruit rots away: Gray mold (Botrytis cinerea).
Oval, reddish-brown to purple-brown spots appear on the branches: Stem spot disease (Septocyta ruborum).
Dark red spots on the top of the leaves; orange-brown spots appear on the underside: Blackberry Leaf Rust Fungus (Phragmidium violaceum).
Other
Leaves and young blackberries wither and burn during drought and a heat wave. A strong easterly wind exacerbates drought damage. See also: sunburn and drought damage.
Related onderwerpen