Privet hawk moth, this large moth belongs to the sphinx moths.

Do not confuse with:
Psilogramma menephron, also named Privet hawk moth: a large sphinx moth usually found in Sri Lanka, India, Nepal, southern China, Thailand, Vietnam, Indonesia and the Philippines.
Privet hawk moth (Sphinx ligustri). This large moth belongs to the sphinx moths or hawk moths (Sphingidae). The privet hawk moth has a wingspan of about 10 cm and is found throughout the Palearctic realm.
This sphinx moth is active at night from May to September. They live on nectar that they lick off flowers with their long, rolling tongues.
The caterpillars (larvae) of the privet hawk moth can be seen from July to early November. The caterpillars hibernate at spade depth, about 30 cm in the ground.
Privet is the main host plant of this butterfly.
Mice, birds and frogs are the natural enemies of the Privet hawk moth – both the caterpillars and the butterflies.
Control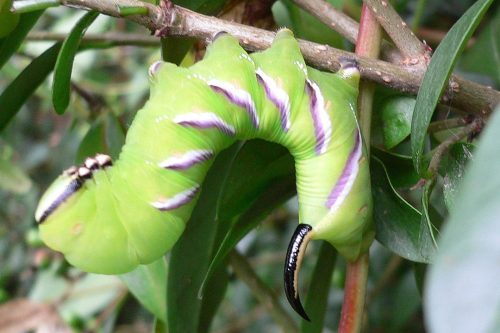 The caterpillars of the privet hawk moth do not easily become a nuisance. If necessary, excess caterpillars are easy to remove because they are large and highly visible. Relocate them to a less harmful place (ash).