Mint, hardy perennials in mint family. Strong smelling herb (menthol).

You are viewing the mobile-adapted version of the page.
The one for tablets, laptop and desktop also provides general information, such as origin, toxicity and cultivation.
Mint – (Mentha), hardy perennials in the mint family (Lamiaceae). Strong smelling herb (menthol). There are several species: Watermint (Mentha aquatica), corn mint (Mentha arvensis), horse mint (Mentha longifolia), pennyrile (Mentha pulegium), spearmint (Mentha spicata), apple mint (Mentha suaveolens).
Well-known crosses: peppermint, cross between watermint Mentha aquatica and spearmint Mentha spicata; another cross: woolly mint, cross between horse mint Mentha longifolia and apple mint Mentha suaveolens.
Peppermint (Mentha × piperita) is used in cooking and is also the type of mint used to make tea. Peppermint is a hardy perennial and blooms in summer with small purple flowers.
This cross is offered as seed. Because peppermint is a sterile hybrid, it will not produce viable seed by itself. Therefore, propagation by taking cuttings from rhizomes is more common. Peppermint is grown in Europe (France, England) as well as in North and South America and China.
Peppermint likes a spot in moist, nutritious, well-drained soil in partial shade. The herb needs a lot of nutrition and can then grow to a height of one meter. Prevent the plant from being too dry. During periods of drought, water promptly. Peppermint expands rapidly; prevent ramplant growing by planting peppermint in a large plastic pot with no soil.
Bugs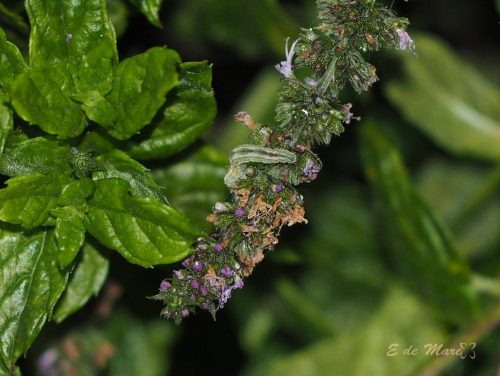 On leaves and stems dark green caterpillars with black spots: mint moth (Pyrausta aurata).
Small metallic-colored beetles feed on the leaves: blue mint beetle (Chrysolina coerulans).
Fungi & diseases
White spots on leaves; growth slows: powdery mildew (Sphaerotheca spp).
Leaf and fruit become covered by a thick layer of fungus and wilt: Verticillium wilt (Verticillium spp).
Other
Plant yellows, leaves hang limp: desiccation in periods of drought.