Asparagus is a hardy perennial that dies off in the winter and starts to sprout again in the spring.
You are viewing the mobile-adapted version of the page.
The one for tablets, laptop and desktop also provides general information, such as origin and cultivation.
Asparagus (Asparagus officinalis) is a hardy, perennial that dies in the winter and starts to sprout again in the spring.
Start preparing the asparagus bed in February. A raised bed remains somewhat drier than a bed at ground level. Mix sand into heavy clay to facilitate drainage of rainwater. Give asparagus beds on sandy soils a generous portion of compost. Asparagus is a perennial and has a permanent place in the vegetable garden. It takes two to three years before sown asparagus can be harvested. After ten years, the plants need to be replaced. Apply ridges of light soil around the mature plants to keep the shoots nice and straight and dry. Asparagus stays white by growing them underground in raised ridges; green asparagus grow above the soil and turn green under the influence of light.
In November the dried stems can be cut off. Do not leave the dried stemss: the asparagus beetle overwinters between dead foliage. Occasionally give asparagus some lime: the soil should not be too acidic.
Bugs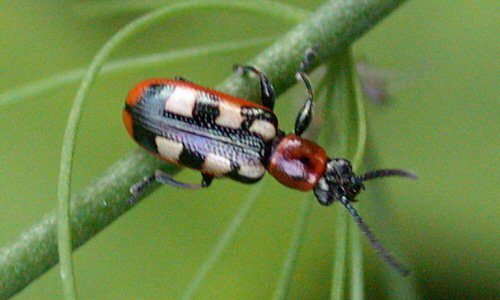 Leaf is eaten: Common asparagus beetle (Crioceris asparagi).
Tunnels in curved stems: asparagus fly (Plioreocepta poeciloptera).
Fungi & diseases
Spots with an orange tip in the leaf, later red-brown warts on the stems: asparagus rust (Puccinia asparagi).
Side stems yellowing, grey mold fluff: Botrytis blight – Gray mold (Botrytis ssp.).
Reddish-brown spots at the base of the stems followed by rotted off roots; Fusarium wilt (Fusarium oxysporum).
Other
The tops of the young shoots die off: lack of moisture. Because asparagus roots superficially and light soils do not retain water well, a lack of moisture develops relatively quickly.