Rhododendron, light shade. Does not like wetness.
Also known as:
Catawba rosebay
Mountain rosebay
Purple laurel
Rosebay laurel
You are viewing the mobile-adapted version of the page.
The one for tablets, laptop and desktop also provides general information, such as origin, toxicity and cultivation.
Rhododendron catawbiense is a species of Rhododendron. The plant is native to eastern North America. The species grows mainly in the Appalachian Mountains from Virginia in the north to Alabama in the south. In addition, the plant is found multiplying in the wild in a number of states. The species designation catawbiense comes from the Native American tribe Catawba. It is a dense shrub that usually grows up to 3 m tall, but under favorable conditions it can also grow up to 5 m tall. The plant is an evergreen. The leaves are 6-12 x 2-4 cm in size. The flowers are not particularly large. They are 3-4.5 cm in diameter and are purple in color, often with small dots or stripes. The fruit is a 1.5-2 cm capsule, which contains a large number of small seeds.
Bugs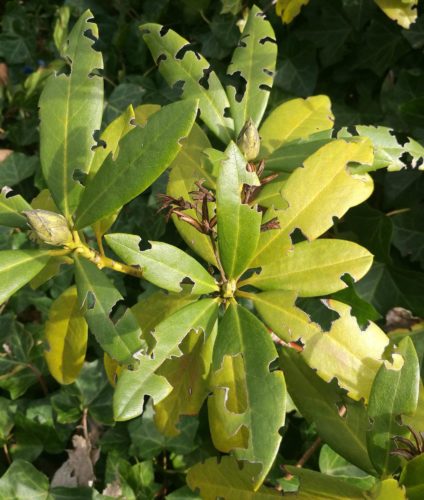 Semicircular bites from the leaf margins, round holes in the leaf: Vine weevil (Otiorhynchus sulcatus).
Fungi & diseases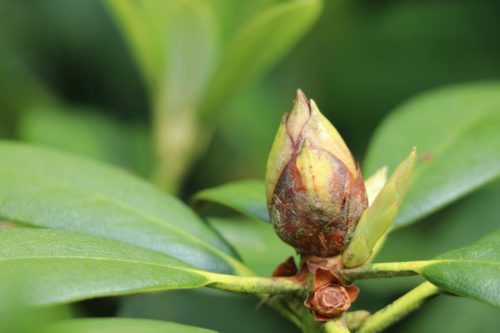 Buds do not sprout in spring; have decayed: Rhododendron Blight (Pycnostysanus azaleae).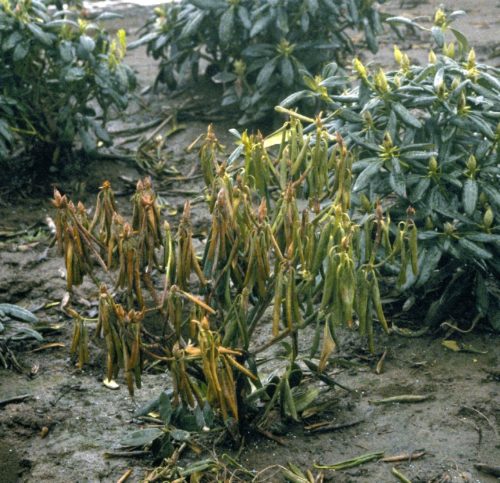 Shrub lags in growth, leaves curl, turn yellow or red, bark at base of plant turns brownish red. The roots show the same discoloration: Root rot (Phytophthora).
Lower leaves of the rhododendron show yellow spots, which then turn red and dark brown. The leaf veins border the spots. Leaf falls early. Spore-forming fungal spots develop on the spots: Septoria blight (Septoria spp).
Twigs turn brown, later black and die. Sharply defined brown spots develop on leaves; leaves droop and fall off prematurely (extreme leaf loss): Phytophthora ramorum.
Leaves take on a silvery sheen: silver leaf (Chondrostereum purpureum).
Other
Lower leaves turn yellow: dogs urinate against the bush causing urine damage to the leaves.
Rhododendron languishes: shrub gets shaded by neighboring fast growers.
Leaves yellow; veins remain green: at a pH higher than 5.5 (normal is a pH of 7), the plant becomes iron deficient. Occurs mainly on young plants, especially from the lower leaves. Rhododendrons thrive best in acidic soil with a pH of 5. Peat litter and coffee grounds lower pH.