Hibiscus belongs to the mallow family and has over two hundred species.

Hibiscus species:
Hibiscus syriacus: garden hibiscus, rose of Sharon*, rose of Althea
Hibiscus rosa-sinensis: Rose of China, Tropical hibiscus
*) not to be confused with Hypericum calycinum, also named 'rose of Sharon'
You are viewing the mobile-adapted version of the page.
The one for tablets, laptop and desktop also provides general information, such as origin, toxicity and cultivation.
Hibiscus belongs to the mallow family (Malvaceae) and has over two hundred species. The plant is native to (sub-) tropical regions. Hibiscus has annual species, perennials, shrubs and small trees.
Hibiscus blooms with large, striking flowers. Hibiscus are host plants for various (tropical) butterflies.
The common garden hibiscus (Hibiscus syriacus) is the most popular in gardens because it's hardy. The garden hibiscus is the national plant of South Korea and the rose of China (Hibiscus rosa-sinensis) that of Malaysia. The rose of China is used in our temperate regions as a evergreen houseplant for a warm greenhouse or conservatory.
The common garden hibiscus is a deciduous woody shrub that can reach 2 to 3 m in height and 2 m in width over the years (slow grower). The leaves of the garden hibiscus do not appear until late spring; flowers grow from the leaf axils. In warm, sunny summers, the garden hibiscus blooms on annual branches from August well into autumn. During rainy periods, the flower buds may fall off.
The common garden hibiscus likes a sheltered spot in the sun and an airy, loose soil with plenty of humus. In times of drought, watering is necessary.
The garden hibiscus tolerates pruning, preferably in March.
Bugs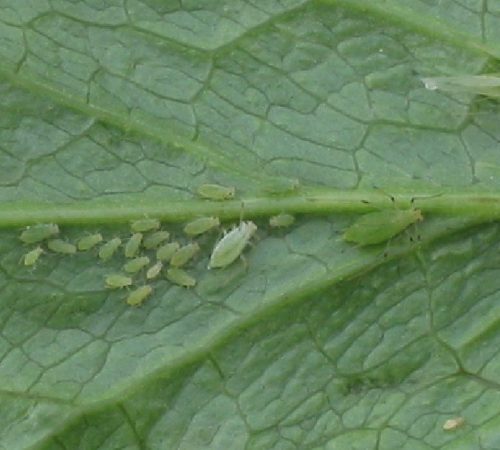 Aphids on and under leaves. Hibiscus plants placed in a windy location are more susceptible to aphids.
Chlorophyl is eaten away: Lime seed bug (Oxycarenus lavaterae).
Fungi & diseases
Patches of brownish or gray fungus on the leaves, stem and flowers of plants: gray mold (Botrytis ssp.).
Other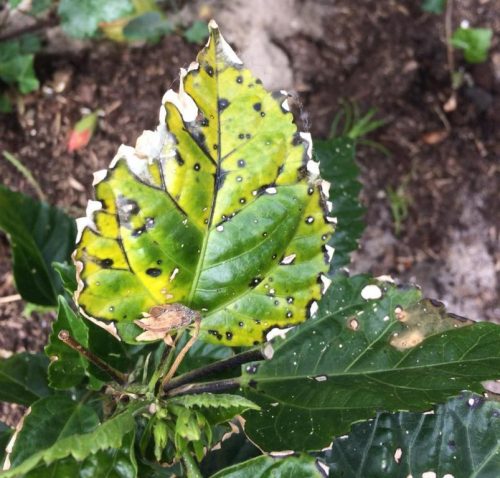 Yellow spots on the somewhat older leaves, wilting leaf edges and premature leaf fall: potassium deficiency.